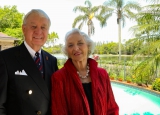 Awards
Bicentennial Medal (2019)
Partners in Philanthropy (2016)

Family Legacy Award
IU Foundation President's Medallion (2001)
About Martha Tardy
Virtually every member of the Tardy family - from Gene (BA '56, MD '61) and Marty (BA '56) to their youngest granddaughter, Hannah Holloway, has generously shared their time, talent, and treasure with Indiana University. Twenty members of their immediate family have graduated from IU, including Gene's sister, Susie Tardy Maxwell and his late brother, Jerry Tardy, president and chief executive officer of the Alumni Association from 1987-2001. Gene and Marty's three children, Sallie Jo Tardy Mitzell, Karen Tardy, and Elizabeth Tardy Holloway, are also proud IU alums, as are grandchildren Kemmie Mitzell, Katie Mitzell Fagan, Alex Brown and Hannah Holloway.
Both Gene and Marty, who met at IU as sophomores, noted positive, transformative experiences with IU administrators, professors, and athletic coaches, which in turn influenced their growth as persons and fostered their lifelong affection for Indiana University. "Our expansive college experience at IU went beyond our educations," said Gene Tardy. "And that's what we wanted for our children and grandchildren, too."
Many Tardy family members have served in significant leadership roles in their numerous volunteer capacities. In 1976, in response to a request from the IU Department of Otolaryngology, Gene Tardy, a clinical professor of otolaryngology at IU School of Medicine, organized annual postgraduate courses in facial and plastic reconstructive surgery, which continued for several decades.
Marty served as president of the College of Arts and Sciences Alumni Board. As a member of the Women's Philanthropy Leadership Council Grants Committee, she recently took special satisfaction in awarding funds to upgrade medical equipment at the IU Student Outreach Clinic---especially otoscopes to help resident physicians diagnose children's ear infections. "As a mother and a grandmother," said Marty, "I really enjoyed helping this group."
Following in the family footsteps, Sallie Jo Tardy Mitzell has been named President-Elect of the College of Arts and Sciences Alumni Board. Serving on the IU Student Foundation (IUSF) Board of Associates for over 25 years and as president during the running of the 50th Little 500 are volunteer positions close to her heart. "I have so many good memories from the Student Foundation," commented Sallie Jo. "My greatest joy is giving back to this organization."
Beyond their own involvement, members of the Tardy family also play a pivotal role in inspiring others to become involved with IU. Marty has significantly enhanced the advancement of women's affairs at IU through her work on the Colloquium for Women. Sallie Jo is serving in a leadership function to raise $10 million for student scholarships on behalf of IUSF. And Gene and Marty's granddaughter, Hannah, lends her leadership and promotion skills to Dance Marathon.
"So many of the members of the Tardy family personify what IU hopes to inspire in its students---principled, generous leaders who give back to their communities and institutions that foster those communities," said College of Arts and Sciences Executive Dean, Larry D. Singell, "The Tardys' contributions to IU are exceptional, and underlying all they do is a deep faith and commitment to Indiana University and its role in building communities for future generations." In 2019, Tardy received Indiana University's Bicentennial Medal in recognition of her distinguished contributions and longstanding support of the university.