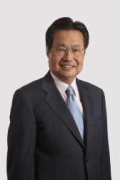 Awards
Kelley School of Business Academy of Alumni Fellows (2014)
About Wai Keung Cheng
Wai Keung Cheng joined Wing Tai Holdings Ltd. in 1974 after earning a Bachelor of Science degree from the Kelley School in 1971 and an MBA from the University of Chicago in 1973. He was appointed the company's chairman of the board in 1994. Today, Wing Tai is Singapore's leading property and retail group reputed for quality and design. Listed on the Singapore Exchange since 1989, Wing Tai is an investment holding company with a pan-Asia focus, particularly on key markets in Asia, including Singapore, Malaysia, Hong Kong and China.
Cheng also is deputy chairman of Temasek Holdings Ltd., a global investment company wholly owned by the Singapore government, which has a net portfolio asset value of $173 billion. It has investments in financial services, telecommunications, media and technology, transportation and industrials, life sciences, real estate, and energy and resources.
In addition, Cheng is vice chairman of Singapore-Suzhou Township Development Pte. Ltd. and a director in China-Singapore Suzhou Industrial Park Development Group Co. Ltd., the first of bilateral cooperations between the Singapore and Chinese governments to develop a modern township in Suzhou. He is a director in Singbridge Holdings Pte. Ltd. for large-scale urban planning and development in China and Southeast Asia, and a director in Singapore Health Services Pte. Ltd., Singapore's largest academic health care cluster.
Other chairmanships assumed by Cheng include Power Seraya Ltd. (1995-2000), MediaCorp TV Singapore Pte. Ltd. (1997-2002), Media Corporation of Singapore Pte. Ltd. (1999-2002), global hotel group Raffles Holdings Limited (2001-2006) and Neptune Orient Lines Ltd (2002-2012), which owns the global shipping company American President Lines.
Cheng has served on many government bodies, including the Economic Development Board, Singapore Trade Development Board and Singapore Productivity and Standards Board. He also sat on national committees focused on small- and medium-sized enterprise developments and automation, as well as economic development and productivity improvement nationwide.