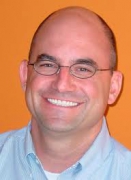 Awards
Kelley School of Business Distinguished Entrepreneur (2014)
About Scott D. Dorsey
Scott Dorsey, who earned a Bachelor of Science degree in marketing from the Kelley School in 1989, is CEO of the Salesforce ExactTarget Marketing Cloud. He co-founded ExactTarget in 2000 with a vision to help organizations use the then-emerging medium of email to connect with their customers and drive business results.
Since its founding, the company and its technology have grown to power the digital marketing campaigns of many of the world's leading brands across email, mobile, social media and the Web. Dorsey has led ExactTarget from startup to one of the largest cloud IPOs on the New York Stock Exchange in March 2012. Following Salesforce.com's $2.5 billion acquisition of ExactTarget in July 2013, he was named the CEO of the Salesforce.com Marketing Cloud, which now includes Radian6, Buddy Media, Social.com and ExactTarget's suite of digital marketing products. Dorsey is an acclaimed executive whose visionary business leadership has been featured by the world's top media including CNBC, Fox Business News, and the Wall Street Journal among others.
He has also earned numerous accolades for his business and civic leadership, including 2012 Indiana Chamber of Commerce Business Leader of the Year; 2012 Laureate Central Indiana Junior Achievement Business Hall of Fame; 2012 recipient of the Indiana Sagamore of the Wabash; Ernst & Young Entrepreneur of the Year; American Business Awards Executive of the Year; TechPoint Trailblazer in Technology; BtoB Magazine's Who's Who List; MS Society Hope Award; Indianapolis Business Journal's Forty Under 40; and Junior Achievement's Best and Brightest.
He serves as chairman of the Indiana Sports Corp. and sits on the board of directors for TechPoint and the Central Indiana Corporate Partnership. He is a member of the Dean's Advisory Council for the IU School of Informatics and Computing. In 2012, he served as chair for the Marketing and Communications Division for the Indianapolis Super Bowl Host Committee. Dorsey also has an MBA from the Kellogg Graduate School of Management at Northwestern University.