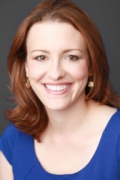 Awards
College of Arts and Sciences Outstanding Young Alumni Award (2014)
About Marion Werkheiser
Marion Werkheiser, an attorney and an expert on corporate, regulatory and international trade law, is a committed crusader against what she calls the global "black market in looted antiquities." She is co-founder and managing partner of Cultural Heritage Partners PLLC, a Washington, D.C.-based firm that focuses exclusively on cultural heritage issues, the first firm of its kind.
She and her colleagues also do advocacy work with Congress and federal agencies to increase protections for domestic cultural heritage, including shipwrecks and significant historic and cultural sites across the country. Before launching Cultural Heritage Partners, she co-founded and for five years co-directed the Phoenix Project, a nationally recognized social enterprise focused on improving business practices and sustainability of organizations working in the social sector.
A Wells Scholar and a member of Phi Beta Kappa while at IU, she earned her bachelor's degree in political science and classical civilization with an emphasis in art and archaeology. After earning her law degree from Harvard University, she practiced international trade law in the Washington, D.C., office of Baker & Daniels. Werkheiser also served as a legal fellow in the office of U.S. Senator Evan Bayh, D-Indiana, and she remains active in Democratic politics.