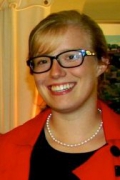 Awards
Stahr Senior Award (2015)
Truman Scholarship (2014)
About Christine White
Christine White is a graduate of Indianapolis' Cathedral High School, where she was co-valedictorian. White is pursuing majors in political science, economics and Spanish and a minor in Near Eastern languages and culture in the College of Arts and Sciences. She is a Herbert Presidential Scholar and received the Political Science Department Patton Scholarship. A Hutton Honors College student, she has a 3.96 grade-point average.
She also studied at Pontifical Catholic University in Lima, Peru, and has studied and worked in several other Latin American countries, including Costa Rica, Guatemala and Nicaragua.
In Bloomington, White has been a volunteer at the Mathers Museum of World Cultures and worked with El Centro Comunal, where she tutored Latino youth, and Bienestar, for which she helped administer the Latino Health Assessment survey to local residents. She has worked as an outings leader for IU Outdoor Adventures and a sports supervisor for Campus Recreational Sports.
She was a public affairs intern with the U.S. State Department in Guatemala City, Guatemala, in the summer of 2013. She worked in the summer of 2012 with the sustainable development foundation Masaya sin Fronteras in Nicaragua, where she established a health education program for high school students in conjunction with a women's health clinic.