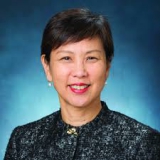 Awards
Maurer School of Law Academy of Law Alumni Fellows (2014)
About Sara Yang Bosco
Sara Yang Bosco, class of 1983, is the daughter of Chinese parents who came to the United States in the late 1940s and early 1950s. She was born and raised in South Bend, Ind., and graduated from the University of Notre Dame before enrolling in the Maurer School of Law in 1980. She has been resident in Hong Kong since 1991.
Apart from a five-year period as a lawyer in New York City in the late '80s, Bosco has spent all of her career in Asia. She was an attorney in a Taipei law firm and a partner in the Hong Kong office of Baker & McKenzie before joining the Hong Kong office of Perkins Coie LLP, a Seattle-based firm with more than 900 lawyers. She built her reputation as an outstanding practice lawyer in China during the rapid growth in that country's economy and was named one of AsiaLaw's Leading Lawyers for China and M&A in 2001 to 2004 consecutively.
In 2005, Bosco was named general counsel, Asia Pacific, of Emerson, a $25 billion, 132,000-employee company. Emerson is a Fortune 500 diversified global manufacturing and technology company, specializing in network power, process management, industrial automation, climate technologies, and commercial and residential solutions. Emerson is frequently ranked as one of Fortune's Most Admired Companies. A client of Bosco since the 1990s, Emerson offered her the position of general counsel three times before she ultimately agreed to accept. In 2008, she was promoted to president of Emerson Asia Pacific, which includes 37,000 employees in over 40 manufacturing facilities and 29 engineering and development centers. Bosco is the first female president of Emerson's Asia Pacific operations, and she is also chair of Emerson Electric (China) Holdings Co. Ltd. She serves on the Board of Governors of the American Chamber of Commerce in Hong Kong.