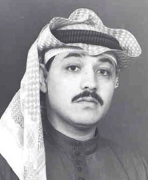 Awards
School of Public Health Mobley International Distinguished Alumni Award (2014)
About Talal Hashim
Talal Hashim received the Mobley International Distinguished Alumni Award. This annual award, named in honor of former Dean Tony Mobley, recognizes outstanding professional achievement outside of the United States.
Talal Hashim graduated from Indiana University in 1988 with his Doctorate in Health & Safety from the School of Public Health-Bloomington. An accomplished educational leader, he has held multiple roles at the King Saud University in Saudi Arabia including Coordinator of Health Services Administration Program, Director of the Center for Research and Development, Chairman of the Department of Community Health Sciences, including his current roles as Professor of Public Health Safety and Education. He has been instrumental in the evaluation and improvement of curriculum for the Community Health Sciences Program in the College of Allied Medical Sciences at King Saud University.
Dr. Hashim's research interests include examining knowledge, attitudes, and beliefs related to various health topics some of which include cancer, smoking, heart disease, and HIV/AIDS. He work has been published in various journals including the Saudi Medical Journal, Journal of Family and Community Medicine, and the New Egyptian Journal of Medicine.