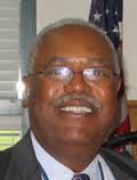 Awards
McKinney School of Law Distinguished Alumni Award (2014)
About Gil Holmes
Gil Holmes has led a career as varied as it is distinguished. He served in the United States Army and is a veteran of the Vietnam War, receiving multiple medals for his service. His final military rank was Lieutenant Colonel.
Following his military service, he was director of personnel for the Indianapolis Museum of Art, Department Head for Transportation Services in the Human Resources Division at Methodist Hospital, Commissioner of the Indiana Bureau of Motor Vehicles (BMV) and Chairman of the BMV Commission, Second Vice President and Director of Facilities and Services for Corporate Procurement for Lincoln National Corporation in Fort Wayne, President and Chief Executive Officer for IndyGo, and Executive Director of the American Civil Liberties Union of Indiana. He also is the founder and president of Gil Holmes Associates, a management consulting firm.
Holmes was honored for his career in public interest law by the IU McKinney student group Equal Justice Works at the 2011 Public Interest Recognition Dinner, was named a Kentucky Colonel in 1989, and a Sagamore of the Wabash in 1996.