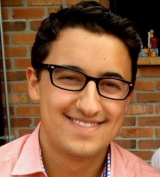 Awards
Kate Hevner Mueller Outstanding Senior Award (2013)
About George Thomas IV
George Thomas IV graduated with a degree in Broadcast Journalism with a concentration in Business. Thomas was an active member of his fraternity, Phi Delta Theta, serving on as a house manager and as a member of the executive board. Thomas was also involved in the wider IU community, serving as President of the Student Alliance for National Security (SANS), as a member of the Indiana University Student Foundation Steering Committee, and as Indiana University Student Association's Congressman to the College of Arts and Sciences. Additionally, Thomas sat on the Union Board as the Lectures Director.
As an undergraduate, Thomas gained political experience as a Congressional Intern to Congressman Baron Hill. Thomas also was a media intern at the Walt Disney Company, a media intern for The Blaze in New York, and worked as a Marketing and Sales Associate for Martin Marketing.
Following his graduation, Thomas started a job as a Market Research Analyst with Cushman & Wakefield. He then moved to a position as a Product Specialist for Tesla Motors before returning to Cushman & Wakefield as a Corporate Advisory Associate.