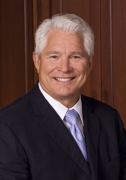 Awards
Z.G. Clevenger Award (2013)
IUPUI Spirit of Philanthropy Award (2012)
About R. Daniel Grossman
Dr. Dan Grossman came to IU as an All-State quarterback and played linebacker for the Hoosiers from 1970-72. Hailing from a family of football stars, Dr. Grossman's father, Rex, played for IU, while his son, Rex III, led the Chicago Bears to the 2007 Super Bowl.
Grossman earned a B.A. in Biological Sciences from Indiana University in 1973. After attending the IU School of Medicine, he completed his residency at Baylor School of Medicine. He opened his ophthalmology practice in Bloomington in 1980.
Dr. Grossman became one of the leading cataract surgeons in the country, having performed over 42,000 cataract and cataract-related laser procedures. Dr. Grossman has long been recognized as a key figure in local healthcare developments. He has been associated with bringing laser eye surgery to Bloomington (1985,1990), developing the area's first single specialty surgical center (The Eye Center of Southern Indiana and Bloomington Surgery Center, 1990), initiating The Southern Indiana Surgery Center and Campus (1991), Precision Healthcare (1993), and Unity Physician Group (1996).
He has remained an active alumnus of the IU School of Optometry. When he heard about plans to build a new optometry clinic in Bloomington, Dr. Grossman became a leader in the effort. His support of the School of Optometry earned him a 2012 Spirit of Philanthropy Award. A life member of the IU Alumni Association and the I Association, Dan is also a member of the Presidents Circle.