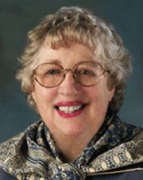 Awards
School of Library and Information Science Distinguished Alumni Award (2014)
About Blanche Woolls
Dr. Blanche Woolls received her Master of Library Science in 1962 and Ph.D in Library and Information Science in 1973, both from IU. She became a professor in the School of Library and Information Science at the University of Pittsburgh, and spent 24 years at Pittsburgh with a teaching specialty in school library media. While at Pittsburgh she coordinated the school library certificate program, chaired the Department of Library Science for five years, and served as chair of the doctoral studies committee for 12 years.
Woolls became the Director of the School of Library and Information Science at San Jose State University in 1997, and remained there until her retirement in August 2005. She has also taught at the Texas Women's University and the University of Texas at Austin.
Wools currently is a consulting editor for Libraries Unlimited. She is a past president of the American Association of School Librarians and the International Association of School Librarianship and serves on the advisory board for the Clarion University Department of Library Science. She is currently professor emerita at both the University of Pittsburgh and San Jose State University. Woolls is still engaged with the School, establishing the SLIS Doctoral Scholarship in 2010. A staunch advocate of information literacy, she now travels the globe spreading the importance of information literacy skills and its integration into the curriculum.