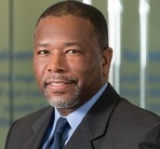 Awards
Kelley School of Business Academy of Alumni Fellows (2015)
About Darryl L. Wilson
Darryl L. Wilson is vice president and chief commercial officer for GE Power & Water's Distributed Power, a leading provider of power equipment and services. Distributed Power's product portfolio includes highly efficient industrial aeroderivative gas turbines and reciprocating engines that generate 200 kW to 100 MW of power for numerous industries globally. Headquartered in Cincinnati, Ohio, Distributed Power employs more than 4,500 people around the world.
Darryl joined GE in August, 1992 after a combined eight years at IBM, Procter & Gamble and British Petroleum. Most recently, he was president and CEO of GE's Aeroderivative Products business, a leading provider of aeroderivative gas turbine engines and services for global power generation applications. In that role, he led the group's Aero products and services, a multibillion global business, where revenue grew from $1.7B to $4.2B during his tenure as president and CEO. He previously held a number of other leadership roles during his career at GE, including president and CEO, GE Consumer & Industrial for Asia Pacific in Shanghai, China, and president and CEO, GE Consumer & Industrial-Europe, Middle East and Africa (EMEA). He was named a General Electric Company officer in 2008.
Darryl holds a bachelor's degree in business administration from Baldwin-Wallace College in Berea, Ohio, and an MBA from the Kelley School of Business. He and his wife Giselle and their sons, Jared and Aaron, live in Houston, Texas.