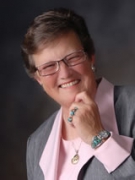 Awards
School of Health and Rehabilitation Sciences Distinguished Alumni Award (2016)
IUPUI Spirit of Philanthropy Award (2003)
About Patricia Rae Evans
Dr. Patricia Rae Evans received her bachelor's degree in physical therapy from Indiana University, a Master of Education Administration from The American University, a Master of Arts in Organizational Development and a Doctor of Philosophy in Human and Organizational Systems from the Fielding Graduate University.
Throughout her extensive career, Dr. Evans has served as a clinician, faculty member, and researcher in physical therapy and health sciences, as well as previously serving on the staff of the American Physical Therapy Association and the California Physical Therapy Association.
Dr. Evans is currently Co-Founder & General Partner at AlphaWave Consulting. She has held the positions of Chair, Director and Associate Professor of the Department of Health and Human Sciences as well as Academic Coordinator of Clinical Education for the Department of Physical Therapy at Samuel Merritt College over a period of 11 years. She served as Chair and Associate Professor of the Physical Therapy Department of Mount St. Mary's College for 5 years.