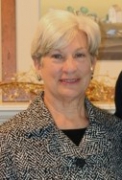 Awards
Bicentennial Medal (2020)
Partners in Philanthropy (2018)

Keystone Award
Presidents Circle Laurel Pin (2013)

Benefactor
About Judith A. Summerville
Judy received her undergraduate degree from Penn State, master's degree from the University of Pittsburgh, and in 1980, received her MBA from IU. With her husband, Gregg, they have shown exemplary commitment to IU through countless hours of service and support to multiple IU campaigns and initiatives.
Summerville's involvement with Indiana University philanthropy began when she became a founding member of the Women's Philanthropy Leadership Council. She is a strategic leader who helped improve the grant application and vetting process. This has led the committee to award more than $100,000 to multiple projects each year. Additionally, Summerville assisted in creating an advocacy process at IU Bloomington to award critical funds to students in emergency need.
Judy joined the IU Sidney and Lois Eskenazi Museum of Art National Advisory Board in 2013. She enjoyed her involvement so much that Gregg also joined the board in 2015. Serving together, they have not only led by example in their giving, but they have opened their home and introduced the Columbus community to the Eskenazi Museum of Art.
The couple's combined impact is made clear through the Gregg T. and Judith A. Summerville Endowed Chair in Finance at the Kelly School of Business, the Summerville Family Scholarship at IUPUC, and countless other initiatives.