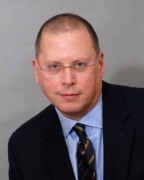 Awards
Kelley School of Business Academy of Alumni Fellows (2016)
About Dan Aron
Aron is a partner with Levin Capital Strategies, a multistrategy equity investment advisor in New York City. He has been with this firm and its predecessor firm, John A. Levin & Co., since 1989. Upon graduation with a bachelor of science degree in finance from Kelley in 1983, he started his career with the investment banking firm Salomon Brothers, working in the equity department in New York, Chicago and Tokyo.
A resident of Westport, Conn., Aron is a member of the Kelley School of Business Dean's Council and serves as an active mentor to the students in the undergraduate Investment Management Workshop. He also is a member of the selection committee for the Jefferies Family Scholarship and a board member of two Connecticut-based arts organizations: the Music Theatre of Connecticut and The Levitt Pavilion for the Performing Arts.
At IU, he was a member of Sigma Alpha Epsilon fraternity, where he served as its president. Aron was very active with the IU Student Foundation (IUSF), where he was selected to be a member of the 1982-83 steering committee.