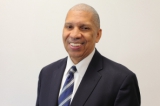 Awards
Kelley School of Business Academy of Alumni Fellows (2016)
About Alvin W. Marley
Marley, who earned an MBA in finance from the Kelley School in 1973, is CEO of Lombardia Capital Partners LLC and also its head of small-cap equity investments. Lombardia is one of the nation's most successful minority-owned equity managers, with $2.3 billion of assets under management with offices in Pasadena, Calif., and Chicago.
He has worked for the same organization in Chicago for 30 years, though it has gone through name changes including Swiss Bank and UBS due to buyouts and mergers. In 1987, he became a portfolio manager for small-cap stocks, achieving performance such that assets for his product eventually exceeded $1 billion. He left UBS as managing director and head of small-cap investments in 2003 to manage his own personal funds and seek a more entrepreneurial opportunity. In 2005, he joined Lombardia as one of four equity owners and is now its largest shareholder.
In 2013, Marley received the Wallace L. Jones Alumni Lifetime Achievement Award from the Consortium for Graduate Study in Management, of which the Kelley School is a founding member. He continues to be a strong believer in the Consortium's and IU's mission to reduce the underrepresentation of African Americans, Native Americans and Hispanic Americans in education and business.
Marley has established two scholarship funds at Tennessee State University, where he earned a bachelor of science degree in mathematics, and is an avid supporter of the Black Ensemble Theater in Chicago. He is a former leader of the Christian Youth Ministry at the Greater Metropolitan Baptist Church in Chicago, where he also served as a trustee for 12 years. He is a life member of the NAACP and a member of the Chicago Urban League.