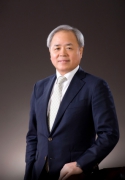 Awards
Bicentennial Medal (2020)
Kelley School of Business Distinguished Entrepreneur (2016)
About William W.S. Joo
Joo is chairman and founder of MediaWill Group and chairman and CEO of MediaWill Co. Ltd. and MediaWill Holdings Co. Ltd. He founded MediaWill Co. in 1990 to publish a classified advertising paper with a small vision to help people buy and sell used goods and cars and get easy access to the information that had been exclusively controlled by brokers and dealers. MediaWill Group today consists of 17 companies in the area of media; human resources service; wholesale/retail including TV shopping; printing; food and beverage; marketing; and real estate services.
The honorary president of the Korea Wheelchair Tennis Association (having served as its president 1999-2007), Joo also is vice president of the Korea Tennis Association. He is a member of the board of Beautiful Foundation, a charity foundation that sponsors various organizations to help improve the lives of low-income households. He serves as a member of the boards of the Daewon Cultural Foundation, the Shin Young Kyun Art and Culture Foundation, and the Patrons Association for Seoul Arts Center. He also serves as chairman of the Patron Association of Bucheon Philharmonic Orchestra.
Joo, who received an MBA from Kelley in 1987, serves on the Kelley School of Business Global Dean's Council and on the dean's council of the Global School of Business of Sung Kyun Kwan University (SKKU), where he earned a bachelor of science degree in business administration.
He was a member of the executive council of the IU Alumni Association and has served as president of its Korea Chapter, as well as chairman of the Sports Committee and Sports Scholarship Foundation of SKKU. He has received distinguished alumni awards from the SKKU Alumni Association and the Business School Alumni Association of SKKU. He also has an honorary doctoral degree in business administration from SKKU.
In 2020, William W.S. Joo was presented the Bicentennial Medal for his distinguished service to Indiana University.