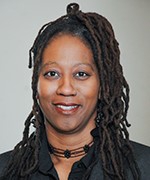 Awards
School of Education Distinguished Alumni Award (2016)
About Kimberly L. King-Jupiter
Kimberly L. King-Jupiter is a native of Gary, Indiana. She holds a bachelor's degree in Sociology from Grinnell College, a Masters in Higher Education/Student Affairs and a Ph.D. in Education Policy from the IU School of Education. A product of Purdue University's Upward Bound Program and a proud alumna of Horace Mann High School, King-Jupiter began her career in the office of admissions at the University of Chicago. The disparities in education led her to graduate school.
As a graduate student at IU, King-Jupiter was actively engaged in efforts to improve the campus' climate for diverse students by working collaboratively with campus administrators and through an editorial column penned under the name 'Lenease'.
She began her faculty career at Auburn University where she facilitated the establishment of Sisters of the Academy Institute's (SOTA) national headquarters and worked collaboratively to design and implement SOTA's Research BootCamp, a model for mentoring and supporting black women in the academy. King-Jupiter also established the first Community-Engaged Scholarship Symposium highlighting the value of community-engaged scholarship. From 2008 to present, King-Jupiter has served as an education dean at two Historically Black Colleges and Universities and currently serves as Special Assistant for Research Initiatives in the Division of Research and Sponsored Programs at Tennessee State University. King-Jupiter has developed an expertise in institutional assessment and accreditation and an interest in examining how this climate of assessment impacts the educational opportunities of students often marginalized in higher education.
Like her work at IU surrounding diversity, King-Jupiter has worked throughout her career to develop programs like Project Nia, Kemet Academy and, more recently, Students.With.Academic.Greatness. All of these initiatives are designed to inspire academic greatness in those least served by our nation's schools.