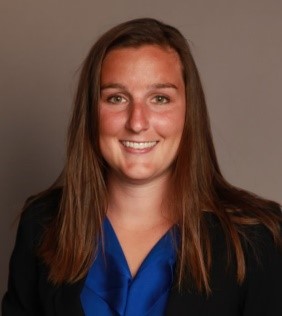 Awards
IUPUI Athletics Hall of Fame (2016)
About Katrina McCrory
Katrina McCrory was a four-year letterwinner for the IUPUI women's soccer team from 2006-09 and a two-time First Team All-Summit League selection. The talented midfielder ended her career with 18 goals and 10 assists while tallying six game-winners. She helped IUPUI to 39 wins during her four-year career, including a 13-win season in 2008 and a school record 17 wins in 2009, culminating in the program's first-ever NCAA Tournament berth.
She was an NSCAA All-Region pick her senior year and earned back-to-back CoSIDA Academic All-District ballots in 2008 and 2009. She was also named among IUPUI's Top 100 students twice in her academic career while studying in the prestigious IU Kelley School of Business. Her best offensive season came in 2008 when she scored a career-high seven goals and four assists and she followed up with six goals and five assists her senior season.
She earned both the Michael A. Carroll Scholarship and Mel Garland Distinguished Student-Athlete Awards in her career.