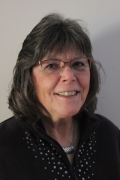 Awards
IUPUI Maynard K. Hine Medal (2017)
About Catherine L. Cunningham
Catherine L. Cunningham has enjoyed two lifetime passions: art and supporting young people. Since graduating from the Herron School of Art and Design in 1984 with a degree in art education, she has melded these passions by teaching and encouraging youth, and by donating a great number of her artworks to charity auctions in support of youth programs.
Cunningham has also generously contributed her time, talent and treasure to the Herron School, the Herron Alumni Association, and the Indiana University Alumni Association. Her support of the Herron School has focused principally on the Saturday School community-learning program and on undergraduate programs. A staunch supporter of Herron, she uses youth art venues to encourage young people to pursue their education at IUPUI.
She has served on the Herron Alumni Board since 2002 in numerous positions -- including president, vice president, secretary and treasurer -- and has chaired or served on several board committees.