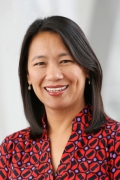 Awards
Bicentennial Medal (2019)
IUPUI Maynard K. Hine Medal (2017)
About Jeannie R. Sager
Jeannie R. Sager, earned her master's degree in philanthropic studies in 2003 from what is now the IU Lilly Family School of Philanthropy. Jeannie has been an ardent and unwavering advocate of IUPUI for many years, approaching every opportunity to serve the campus, the university and the IU Alumni Association with intelligence, energy and enthusiasm.
She is the director of major gifts at the Methodist Health Foundation in Indianapolis. In her previous position as director of advancement at University High School in Carmel, Indiana, she worked tirelessly to support the school's mission of expanding the hearts and minds of students and nurturing excellence through academic, creative and physical achievement. She epitomizes the values of the IUPUI campus through her devotion to academic achievement, personal development and community service.
Sager utilized these core values in positions at the IU School of Medicine, where she served as director for the Dean's Council and special programs, and at the IU Foundation in Indianapolis, where she was a development director. In each of these roles, she had a significant and lasting impact on the campus and on alumni. She currently serves as a manager at large on the IUAA Board of Managers and is a past president of the IUPUI Alumni Council.