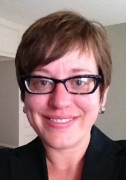 Awards
W. George Pinnell Award for Outstanding Service (2017)
About Tina Baich
Tina Baich is a librarian at IUPUI University Library where she is Head of Resource Sharing & Delivery Services and Bibliographic & Metadata Services. In these roles, she supervises all resource sharing services, library shipping, cataloging and metadata creation. Her primary professional focus is resource sharing in which she has more than ten years of professional experience.
She is also the Project Coordinator for the ALI-PALNI Shared Print Project. She manages communications between 36 academic libraries, the Academic Libraries of Indiana (ALI) Board, the Private Academic Libraries Network of Indiana (PALNI) Executive Director, and Sustainable Collection Services. She drafts policies, serves on and manages the Policy Group, and has coordinated the digitization of rare, public domain materials from participating libraries. Her work in this area has sparked an interest in the intersections of resource sharing and collection management.
Tina Baich's research interests include web-based interlibrary loan finding aids, the impact of open access on interlibrary loan, and international interlibrary loan. She has presented on these topics at state, regional, national and international conferences. She served as the 2014/2015 Chair of ALA RUSA STARS, the American Library Association's section devoted to resource sharing issues, and was named the 2016 Virginia Boucher-OCLC Distinguished Interlibrary Loan Librarian.