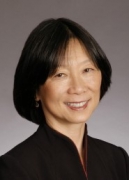 Awards
Honorary Degree (2017)

L.H.D
Doctor of Humane Letters
Graduate Commencement Ceremony
Bloomington, Indiana
Presenter: Michael A. McRobbie
About Pauline Yu
Pauline Yu, one of the foremost scholars in Chinese and comparative literature, received her B.A. magna cum laude in History and Literature from Harvard University and her M.A. and Ph.D. in Comparative Literature from Stanford University.
Yu was President of the American Council of Learned Societies, which supports research in the humanities and social sciences through programs of individual fellowships, conference grants, and international scholarly exchange, since July 2003. From 1994-2003 she served as Dean of Humanities in the College of Letters and Science at the University of California, Los Angeles and Professor of East Asian Languages and Cultures. Prior to that appointment, she was Founding Chair of the Department of East Asian Languages and Literature at the University of California, Irvine (1989-1994) and on the faculty of Columbia University (1985-89) and the University of Minnesota (1976-85). She has authored or edited five books and dozens of articles on classical Chinese poetry, comparative literature, and issues in the humanities and has received fellowships from the Guggenheim Foundation, ACLS, and the National Endowment for the Humanities. She is a fellow of both the American Academy of Arts and Sciences and the American Philosophical Society, and has been a pioneer in promoting the study and understanding of the broad historical canon of Chinese poetry in contemporary times, both on its own terms as an important literary and cultural form and as it has circulated internationally as an important comparative source for Western and European Chinese imaginary.
She serves on the Board of Overseers of Harvard University, the Board of Trustees of the National Humanities Center, the Board of Directors of the Teagle Foundation, the Scholars' Council of the Library of Congress, and the Board of Trustees of the Asian Cultural Council. In addition, she is a member of the Senate of the Phi Beta Kappa Society, and the Board of Governors of the Hong Kong-America Center. Yu is also an Adjunct Senior Research Scholar and Visiting Professor in East Asian Languages and Cultures at Columbia University.
Yu was awarded an Honorary Doctor of Humane Letters for outstanding achievement in the arts and humanities, as well as for community engagement and public service, and was the featured speaker at the 2017 spring graduate commencement ceremony at IU Bloomington.