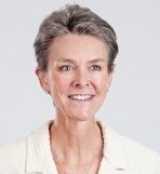 Awards
Honorary Degree (2017)

LH.D
Doctor of Humane Letters
IU Kokomo Commencement
Kokomo, Indiana
Presenter: Michael A. McRobbie
About Beth Brooke-Marciniak
Brooke-Marciniak grew up in Kokomo, Indiana, where she attended Taylor High School. She is a 1981 graduate of Purdue University and former member of Purdue University's women's basketball team. She was among the first class of female athletes to receive a basketball scholarship from Purdue.
Brooke-Marciniak is the global vice chair for public policy at EY (formerly Ernst & Young), EY's global sponsor for diversity and inclusiveness, and a prominent advocate for the benefits of inclusive leadership. Brooke-Marciniak also helped found and currently leads EY's Women Athletes Business Network, which provides mentoring to elite female athletes and highlights the connection between women, sports and leadership.
A member of the Committee of 200, which fosters, celebrates and advances women's leadership in business, she also serves on the Women's Advisory Board of the World Economic Forum, chairs the Board of Vital Voices and co-chairs the International Council on Women's Business Leadership, founded by former Secretary of State Hillary Clinton. Brooke-Marciniak served in the Clinton administration working in the Treasury Department, where she was responsible for all tax policy matters related to insurance and managed care. She has been named nine times to Forbes' World's 100 Most Powerful Women list.
In 2017, Indiana University awarded her with an Honorary Doctor of Humane Letters at its spring commencement ceremony in Kokomo, Indiana for outstanding achievement in the arts and humanities, and for community engagement and public service.