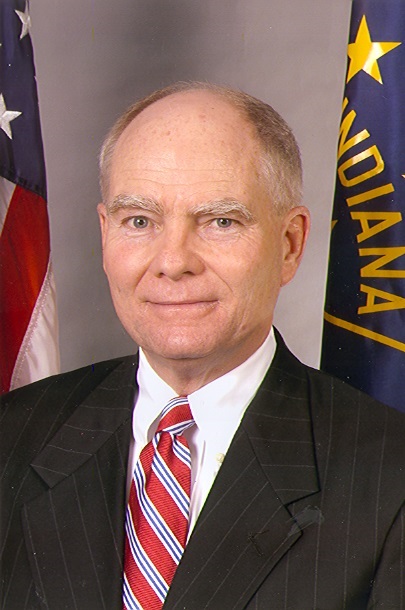 Awards
Honorary Degree (2017)

L.H.D
Doctor of Humane Letters
IU South Bend Commencement
South Bend, Indiana
Presenter: Michael A. McRobbie
About Joseph E. Kernan
Joseph E. Kernan, a native of Chicago, Illinois, grew up in South Bend, Indiana, where he attended St. Joseph's High School and graduated from University of Notre Dame in 1968.
In 1969, Kernan entered the U.S. Navy and served as a naval flight officer aboard the U.S.S. Kitty Hawk. On May 7, 1972, his RA-5C Vigilante, a supersonic attack spy plane on a mission to record damage from an earlier bombing, was shot down over North Vietnam. While Lieutenant Kernan and his co-pilot, Cmdr. Ron Polder, had parachuted to safety but had been taken prisoner. He was held prisoner for 11 months in Hoa Lo Prison. Kernan was repatriated in 1973 and continued on active duty until December 1974. For his service, he received numerous awards, including the Navy Commendation Medal, two Purple Hearts and the Distinguished Flying Cross.
Kernan was employed by Procter & Gamble in Cincinnati, Ohio, before returning to Indiana. He worked for the South Bend Community Schools and several area corporations. In 1980, he was appointed city comptroller.
Kernan served as the State of Indiana Governor and Lieutenant Governor as well as mayor of South Bend. Serving three terms, he became the city's longest-serving mayor. During his time in his roles as Lieutenant Governor and Indiana Governor, he focused on tax reform; job creation; special issues for veterans, farmers, and education.
Following his public service, he taught political science at Notre Dame and was president and managing investor of the South Bend Silver Hawks.
He served on IU South Bend's Chancellor's Advisory Board and was a member of the Chancellor's 100.
As South Bend's mayor, Kernan was credited with investing in long-term job-creation efforts, improving public safety and strengthening the city's financial standing. He continued those efforts as lieutenant governor and governor, leading numerous initiatives and programs to raise the economic and human condition of the state.
In 2017, Indiana University awarded Kernan with an Honorary Doctor of Humane Letters at its spring commencement ceremony in South Bend, Indiana for outstanding achievement in the arts and humanities, and for community engagement and public service.