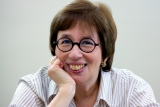 Awards
Honorary Degree (2016)

L.H.D.
Doctor of Humane Letters
Commencement
Bloomington, Indiana
About Linda Greenhouse
Born in New York City, Linda Greenhouse grew up in Hamden, Connecticut. She received a B.A in government from Radcliffe College in 1968, and was a member of Phi Beta Kappa, and editor of the Harvard Crimson.
She initially worked at The New York Times from 1968 -1969, then spent the next three years as a Westchester County correspondent, where she was assigned to Albany to cover the New York State legislature and government. She spent four years in the state capital, the last two as bureau chief. Following a year at the Yale Law School, from 1977 to 1978, where she earned a master of studies in law degree on a Ford Foundation Fellowship, she joined the Washington staff.
During her journalistic career, she has won a Pulitzer Prize (1998), the John Chancellor Award for Excellence in Journalism (2004), the Goldsmith Career Award for Excellence in Journalism, and the Carey McWilliams Award from the American Political Science Association (2002).
She is the Joseph Goldstein Lecturer in Law and Knight Distinguished Journalist in Residence at Yale Law School. She assumed these positions in January 2009 after a four-decade career at the New York Times, including nearly 30 years covering the U.S. Supreme Court. She is a former member of the Harvard University Board of Overseers (2009-2015) and of the National Board of the American Constitution Society (2010-2016).
Among her publications are: Becoming Justice Blackmun, a biography of the justice; Before Roe v. Wade: Voices that Shaped the Abortion Debate Before the Supreme Court's Ruling (with Reva B. Siegel); The U.S. Supreme Court: A Very Short Introduction; and the Burger Court and the Rise of the Judicial Right (with Michael Graetz), published by Simon and Schuster in 2016.
She served on the Council of the American Academy of Arts and Sciences; the National Senate of Phi Beta Kappa; and as a Vice President of the American Philosophical Society, which in 2005 awarded her the Henry Allen Moe Prize for writing in jurisprudence and the humanities. She is one of two non-lawyers elected to honorary membership in the American Law Institute, which awarded her the Henry Friendly Medal in 2002. She has received eleven honorary degrees, including an Honorary Doctor of Humane Letters from Indiana University, which she received in 2016 at the university's Bloomington commencement ceremonies for her outstanding achievement in the arts and humanities, and for continued community engagement and public service.