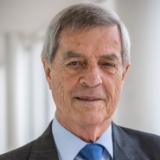 Awards
Bicentennial Medal (2020)
Kelley School of Business Distinguished Entrepreneur (2017)
About Larry K. Sharpf
Sharpf founded Selmet Inc., a state-of-the-art casting foundry that makes parts for a variety of commercial and military planes, including the Boeing 737, Airbus A320 and F-35 Joint Strike Fighter. He began his career with stints at Union Carbide, Precision Castparts, W.R. Grace and Teledyne Castparts. When he arrived at W.R. Grace, the company focused solely on the aftermarket wheels space. By securing its first contracts with Pontiac and Cadillac, Sharpf helped W.R. Grace increase its revenue from $23 million to $50 million in two years.
He left Teledyne in 1982 and established a consulting business, Selmet (short for Sell Metals). One of Selmet's first clients was REM, a distressed-metals casting company in Albany, Oregon, with 18 employees. Sharpf bought REM in 1983 and reopened its doors as Selmet. His leadership helped Selmet produce the world's first titanium golf club in 1987. Selmet was purchased by Blue Point Capital Partners in 2011 and has experienced major growth since then, currently employing more than 500 people.
Sharpf recognized the value of women in management, integrating women into the sales force at W.R. Grace and implementing a tuition-assistance program at Selmet that allowed women to acquire the training needed for key leadership roles within the company. He also administered a profit participation plan at Selmet. He earned a Bachelor of Science degree in marketing from the Kelley School in 1962.