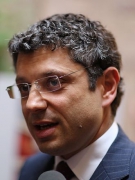 Awards
Thomas Hart Benton Mural Medallion (2016)

50th Anniversary of the Bologna Consortial Studies Program
Presenter: Michael A. McRobbie
About Francesco Ubertini
Ubertini graduated in Civil Engineering at the University of Bologna, where he was subsequently awarded a PhD in Structural Mechanics. Since 2007 he has been Full Professor of Mechanics of Solids and Structures in the School of Architecture and Engineering of the Alma Mater Studiorum - University of Bologna.
He was head of the Department of Structural, Transport, Hydraulic, Survey and Territory Engineering (DISTART) from 2007 to 2010 and of the Department of Civil, Chemical, Environmental and Materials Engineering (DICAM) from 2010 to 2015.
Since 2015 he has been a member of the Academy of Sciences of the Institute of Bologna, the President of the Federico Zeri Foundation and is a member of the Observatory of the Magna Charta Universitatum Council for the period 2016-2020.
In July 2015 he was elected Rector of the University of Bologna, a position he has held since November 2015 and will continue to hold until 2021.
In May 2016 he was awarded the Thomas Hart Benton Mural Medallion by the President of Indiana University in recognition of the 50th anniversary of the Bologna Consortial Studies Program.