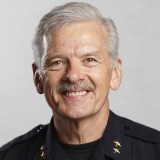 Awards
Distinguished Service Medal (2016)
About Jerry L. Minger
An IU alumnus and 2002 graduate of the FBI National Academy, he served as a patrol officer before moving into the role of technical services lieutenant, which, among many things, involved networking IU Police Department Bloomington for computers at a time when computer servers held less data than the typical smartphone.
After becoming administrative captain, he was interim police chief before being selected in 2010 as the first director for the consolidated IUPD, which brought together all of the campus police departments under one administrative structure. IUPD is part of Public Safety and Institutional Assurance.
Minger, a founding member of the Bloomington-area Justin Case Band (classic rock, country, bluegrass and jazz), first headed to college at Vincennes University on a music scholarship. The son of a police officer, he later transferred to IU and switched his major from elementary education to general studies. His sister Kay Minger, who also retired as a Bloomington police detective sergeant, was studying forensic science at IU at the time.
When Minger joined the "Safety Division" at IU Bloomington in 1972, there were almost 100 full-time officers, compared to less than 50 now; but this also was at a time when universities nationwide had just begun creating their own police departments. Not only was it a period of social unrest, but police officers performed tasks, such as providing building security, that now fall to other security positions.