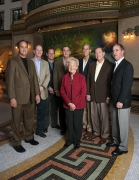 Awards
Partners in Philanthropy (2017)

Family Legacy Award
About Jerry and Lila Seger's Family
The late Jerry and Lila Seger were the first of their family to receive IU degrees, but they were far from the last. Since Jerry and Lila turned their tassels in the late 1940s, 34 more members of their family have gone on to complete an IU education.
This year, the family of Jerry and Lila Seger was honored with the Family Legacy Award, which recognizes families that have created a time-honored tradition of volunteerism and generosity toward Indiana University.
The Seger family's long line of IU graduates boasts a Little 500 rider, many members of the IU Student Foundation, multiple members of the Greek system, members of both women's and men's IU golf teams, and multiple philanthropic-minded relatives whose generosity spans generations.
The family came together to support the Kelley School, where 22 of the family's 34 degrees have been conferred, at a crucial time in the plans for Hodge Hall. Their sizable gift launched the successful campaign for the expanded and renovated building. Jerry and Lila's six surviving sons, along with gifts from the Seger-owned Wabash Valley Produce and the Steven Seger Foundation, honored Jerry and Lila by naming a classroom in Hodge Hall.
Beyond Indiana University, and true to the university's mission to make the world around us better, the Segers have taken great pride in their hometown of Jasper, Indiana. They made a leadership gift for the development of a 75-acre park on the site of the former Jasper Country Club. Grandson Andrew Seger serves as president of the city's Economic Development Commission, and son Roger Seger serves as president of the Park Board. In addition, the children of Larry and Dianne Seger have organized a local golf outing to raise money for Indiana University's chapter of Camp Kesem, in memory of their parents.
Randy and Roger Seger serve on multiple boards and committees throughout the university, and Andrew Seger is a member of the Kelley School Johnson Center for Entrepreneurship and Innovation Executive Board.