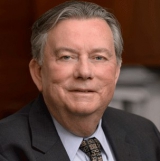 Awards
School of Library and Information Science Distinguished Alumni Award (2017)
About James L. Mullins
James L. Mullins, the Dean of Libraries and the Esther Ellis Norton Professor of Library Science at Purdue University, is the 2017 recipient of Indiana University's Information and Library Science Distinguished Alumni Award.
Chair of the Management Advisory Board of Purdue University Press, Mullins earned a Bachelor of Arts degrees in religion, history, and political science from the University of Iowa, and an M.A.L.S. from Iowa in 1973.
He completed his Ph.D. in 1984 from the then-School of Library and Information Science, which is now part of the School of Informatics and Computing. Mullins then spent 19 years as an associate professor of SLIS while serving as an associate librarian at the Maurer School of Law at IU in the mid-1970s and as the Director of Library Services at IU South Bend from 1978-96.
In 1996, he became the University Librarian and Director of the Falvey Memorial Library at Villanova University. And, in 2000, he became the Associate Director for Administration for the libraries at MIT. Mullins worked at MIT until 2004, at which time he began employment at Purdue University.
Throughout his long career in library science, Mullins spearheaded many initiatives, including the foundation of Open Courseware and DSpace at MIT. He served as the chair of the E-Science Task Force of the Association of Research Libraries. During his time at Purdue, he launched the Distributed Data Curation Center and led the Purdue University Research Repository institutional data repository service, DataCite, as well as the Library Publishing Coalition.
Mullins has published a number of papers and made countless presentations to advance methods of librarianship. Further, he has been active in the National Science Foundation which enables librarians to become better integrated into the funded research process.
Under Mullins' leadership, Purdue was honored with the American Colleges & Research Libraries Excellence in Academic Libraries award in 2015. In 2016, Mullins received personal recognition when he was awarded the Hugh Atkinson Memorial Award which honors library leadership in management and technology. He also has held leadership positions within the American Library Association and the Association of Research Libraries, and helped envision the Active Learning Center, a 164,000-square-foot facility that unites library and information services at Purdue.