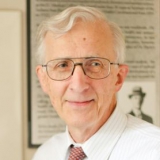 Awards
School of Medicine Glenn W. Irwin, Jr. Distinguished Faculty Award (2016)
About Stephen J. Jay
Dr. Jay attended Wabash College, and graduated from IU School of Medicine in 1966. He completed his graduate medical education in medicine and pulmonary medicine at the University of Texas Southwestern Medical School, Parkland Memorial Hospital in Dallas, Texas. He has been on the faculty at Indiana University School of Medicine since 1976 and he has served as dean for continuing medical education (1994-99) and chair of the IU Richard M. Fairbanks School of Public Health 1999-2006.
Dr. Jay was honored with the IU School of Medicine's Glenn W. Irwin Distinguished Faculty Award, which has been presented for nearly three decades to educators who demonstrate a passion for educating students, collaborating with peers, and pushing the boundaries of research.
A pioneer in the field of public health, Dr. Jay is best known for his advocacy on smoking cessation. Over three decades at the School of Medicine, he rose from assistant professor to overseeing the Division of Pulmonology, served as dean for Continuing Education and, eventually, founding chair for the Fairbanks School of Health. The Indiana Department of Health and American Lung Association have lauded Dr. Jay for his advocacy work, and he was bestowed the Auberbach Award for his efforts to prevent and control lung disease in Indiana.
Dr. Jay has also held leadership positions with the Accreditation Council for Continuing Medical Education, the American Lung Association of Indiana, the Association for Hospital Medical Education, Healthy Indy Partnership, and Improving Kids' Environment.