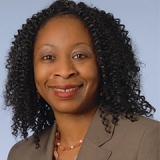 Awards
School of Nursing Excellence in Nursing Award (2016)
About Ukamaka M. Oruche
Dr. Ukamaka Oruche is currently an assistant professor of psychiatric-mental health nursing at the Indiana University School of Nursing. Dr. Oruche received her BSN, MSN, and PhD degrees from IU School of Nursing. She brings over 15 years of clinical experience in psychiatric-mental health nursing to her research of adolescents with disruptive behavior disorders and their families. In her previous role as the clinical nurse manager for Midtown Primary Care at Eskenazi Health Midtown Mental Health in Indianapolis, Dr. Oruche championed the development and implementation of mental health screenings at a number of primary care settings as well as a juvenile detention center. These integrated behavioral and medical care programs, which increased access to mental health care for residents of Marion County were the first of their kind in Indianapolis.
Dr. Oruche is currently developing and testing a mental health intervention to improve the mental health and quality of life of family members of adolescents with disruptive behavior disorders. The development of the intervention, called the FAmily Management Efficacy (FAME) intervention, is supported by the NIH-funded Indiana Clinical and Translational Sciences Institute (CTSI) Young Investigator Award and the Center for Enhancing Quality of Life in Chronic Illness at Indiana University School of Nursing. Dr. Oruche has disseminated her work through publications and presentations at national and international venues.
Dr. Oruche's contributions to the health care of diverse and vulnerable populations have been recognized with the prestigious Tony and Mary Hulman Health Achievement Award for Excellence in Public Health Research from the Indiana Public Health Association, the Lilian Yeager Distinguished Public Service Award from IUSON, the Excellence in Nursing Award from IUSON Alumni Association, the Diversity-Equity Award for Outstanding Leadership in Promoting Culturally Sensitive Mental Health Services from the International Society of Psychiatric Mental Health Nurses, and the 2015 National Institute of Minority Health and Health Disparities (NIMHD) Translational Health Disparities Course Scholarship from NIH. Dr. Oruche was a speaker for the 2014 TEDxIndianapolis during which she discussed her ideas on transforming and sustaining healthcare in southeastern Nigeria. For 12 years, she has co-directed a Providence Care Community Heath Initiative, a non-profit health-service project for the underserved populations in that area. On April 11th, 2016, she was appointed to the Indiana Mental and Behavioral Health Taskforce of the Governor's Healthcare Workforce Council. This taskforce will examine workforce priorities as well as generate recommendations for the Council to consider regarding mental health issues. Dr. Oruche currently serves on the Mental Health Workforce Advisory Group focused on creating Data & Policy Reports on mental health workforce for utilization by state and all stakeholders.