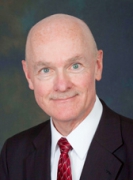 Awards
Distinguished Service Medal (2017)

Retirement Reception
Bloomington, Indiana
Presenter: John S. Applegate
About Steve Keucher
Stephen L. Keucher accepted his appointment as Associate Vice President for Administration, Office of the Executive Vice President for University Academic Affairs (OEVPUAA) in 2011. He then became Associate Vice President for Administration within that same office.
Keucher completed a B.A. in English and Classical Studies from IU in 1972. He returned to Bloomington for an M.B.A. in 1980, and began his service to IU in the University Budget Office in 1982 upon completion of that degree. Throughout his career he has been involved in institutional research and reporting, decision support and data stewardship issues, responsibility center management development and related systems and processes, and budget planning and administration. He has also served as an IU liaison to various state agencies.
Keucher served as manager of the regional campus Blueprint for Student Attainment as well as Deputy Director of the Student Services Initiative project. In his role as Associate VP for Administration, Keucher provided oversight in administrative matters relative to the regional campus and within OEVPUAA.