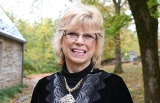 Awards
Distinguished Service Medal (2017)

Retirement Reception
Presenter: Lauren Kay Robel
About Rosalind J. (Rozzie) Gerstman
Rozzie Gerstman's employment at Indiana University, Bloomington, spanned nearly fifty years. Cumulatively, her family members served IU Bloomington for more than 110 years, having earned a total of ten IU degrees, including four graduate degrees – seven degrees of which were earned on the Bloomington campus.
Rozzie was born in Bloomington, Indiana, and grew up in Smithville, about twenty minutes south of IU. She was the youngest daughter of Verna Imogene (Jean) Hill and Harold Young McCammon. In high school, Rozzie served as class president for three years, student council member for three years, and was a member of the cheerleading squad. One summer, Rozzie attended a conference at IU for Indiana high school student council presidents. Prior to that experience, the only connections she had with IU were viewing IU basketball on TV, driving around the campus with her family, and attending an annual show in the IU Auditorium. Although Rozzie's two older sisters worked at IU Bloomington until their retirements, when Rozzie began her own IU career, she could not have predicted all the wonderful relationships that she would build with legendary members of the administration, faculty, and staff, as well as with distinguished guests around the globe.
Rozzie's first position on campus was with IU Athletics, where she worked with a number of coaches, namely, Doc Counsilman, Charlie McDaniel, John Pont, and Lou Watson. It was during IU's final countdown to its sesquicentennial that Rozzie joined ranks with the celebration committee and worked with IU luminaries Herman B Wells and Claude Rich.
Her next IU position was in the College of Arts and Sciences, the Department of Physics. Rozzie quickly immersed herself in the lives of the graduate students, typing their Ph.D. dissertations on an electric typewriter in her free time. During this time, she worked under world-renowned academicians, including Emil Konopinski, Lawrence Langer, Martin Rickey, and Milo Sampson. Other notable physics faculty members included Judy Franz, whose husband, Frank Franz, had become IU's Dean of Faculties; Tim Londergan, who directed the Wells Scholars Program; Homer Neal, who served as IU's dean for research and graduate development; and George Walker, who served as IU's Vice President for Research.
Rozzie's lengthy employment at IU has allowed her to reminisce about many historic events, such as: the time that she and her campus colleagues survived the energy crisis of the 1970's, even though it required that they work in low lighting and the absence of heat. In 1978 when the U.S. was reeling from a coal shortage, IU responded by extending the student's spring break to three weeks. Employees, like Rozzie, were offered additional time off as well. She also witnessed the dedication of the Cyclotron and the filming of the movie, "Breaking Away."
Her final position at IU was in the campus budget office in Bryan Hall. Rozzie reflects that she could not have predicted the opportunities she has had to work with such esteemed individuals as Chancellor Kenneth Gros Louis and Professors Ward Schaap (Chemistry), Maynard Thompson (Mathematics), and Doug Priest and Neil Theobald (Education). During this time, Rozzie observed: personal computers quickly replacing manual typewriters; the creation of an electronic financial system which reduced IU's dependence on paper forms; and email messages that took the place of yellow paper memoranda. Rozzie and her staff provided budgetary, financial, and human resources support for President Michael A. McRobbie, Chief of Staff Karen Adams, Provost Lauren Robel, and Vice Provost Munirpallam Venkataramanan and their staffs, as well as for Executive Vice President John S. Applegate and Vice President William B. Stephan and their staffs.
Rozzie's post-retirement years will, undoubetedly, be met with the same energy, respect, and love that she has acquired through her experiences, education, and friendships over the past fifty years at IU.