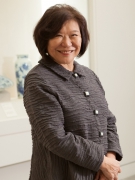 Awards
College of Arts and Sciences Distinguished Alumni Award (2018)
About Emily Sano
Emily Sano, a second generation Japanese American, spent her junior year at IU abroad in a language program in Tokyo. While in Japan, the art history students in that group introduced her to the many museums, galleries, temples, historic kilns and pottery towns, castles, and antique shops.
A recipient of a Woodrow Wilson Fellowship, she attended Columbia University for graduate work in Asian studies and art history. She earned both a master's and Ph.D. from Columbia University. While completing her studies in New York, she taught art history at Vassar College and helped coordinated exhibitions for the Japan Society in New York. She started her first-full time museum position in 1980 as assistant curator of Asian art at the Kimbell Art Museum in Fort Worth, Texas, where her responsibilities included all non-Western art and exhibitions from across all of Asia.
Sano left the Kimbell Art Museum in 1989 to accept a position as deputy director and senior curator of non-Western art at the Dallas Museum of Art, where she gained experience in institutional budgeting, administration, museum finance, and governance. This opportunity provided her with the background she needed to advance to a position at the Asian Art Museum of San Francisco - a museum devoted entirely to the arts of Asia. After three years as deputy director, chief curator, and chief administrative officer, she became the Asian Art Museum's director in 1996, where she served until her retirement in 2008.
At the Asian Art Museum, she mentored the staff in developing an exciting exhibition schedule, and oversaw the museum's move to a new location. When she arrived, the museum's staff produced fewer than one original show per year. However, under her guidance, they presented four large exhibitions and a number of smaller ones annually, each accompanied by a scholarly catalogue and extensive educational programming. Moving the museum to a new location involved the renovation and seismic retrofitting of the city's 90-year old main library in the San Francisco Civic Center, which opened to acclaim in 2003. After the move, Sano remained director for another five years, working with the museum's board and staff to produce exhibitions and programs that drew new audiences to the now-expanded facility.
For several years after her retirement, Sano helped a private individual build a collection of important Japanese art. In 2010, she built a house in San Antonio, Texas, where the San Antonio Museum of Art has a significant collection of Asian art. After advising the museum as a volunteer, she took a position where she could once again work directly with art, producing shows and expanding collections.