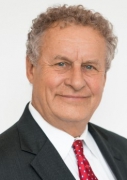 Awards
IUPUI Spirit of Philanthropy Award (2019)
Kelley School of Business Academy of Alumni Fellows (2018)
About Alex D. Oak
Al Oak is Chairman and CEO of Cripe, an architectural and engineering firm based in Indianapolis. He joined Cripe as a land surveyor and since then has served in just about every area of the firm. He has been involved in the design and project management of a number of large-scale, multi-use developments including Geist Lake, Southport Crossing, Tipton Lakes, St. Francis South Campus, Carmel Science and Technology Park, Allison Pointe, Morse Reservoir, and Rising Sun River Boat Casino. The firm has won numerous awards as a "best place to work." Oak is also Co-Founder and Chairman of ECO Oxygen Technologies, LLC, which provides environmentally effective solutions to treatment of water and wastewater through superoxygenation of effluent throughout the U.S.
He is a Past Chairman of both the Greater Indianapolis Chamber of Commerce and the Indianapolis Neighborhood Housing Partnership, Past President of Big Brothers of Greater Indianapolis (and is currently a big brother for the third time), Chairman of Paul I. Cripe Charitable Foundation, and a past Director of the Greater Indianapolis Progress Committee. He also has served on the Board of Trustees for the Sagamore Institute for Policy Research and the Crossroads Council Foundation of the Boy Scouts of America. He has served on several for-profit boards and is currently a member of Old National Bank's Community Board.
Oak has been recognized as a Distinguished Alumnus of the School of Civil Engineering at Purdue University, a recipient of the Legacy Award from the Kelley School's Center for Real Estate Studies, and a Distinguished Hoosier by the Governor of the State of Indiana. He is a member of the Indianapolis Dean's Council of the Kelley School and the Advisory Board of the Kelley Center for Real Estate Studies, of which he was a co-founder in 1985. In addition, he is a Founding Member of IU's Black Philanthropy Circle.
Having earned an MBA degree in Real Estate Administration in 1972 from the Kelley School and a BS degree in Civil Engineering from Purdue University, he also holds professional registration as a Professional Engineer (PE).