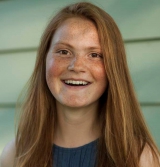 Awards
Fulbright IIE (2019)

Mexico
Fulbright IIE (2018)

Bloomington, Indiana
Wells Senior Recognition Award (2018)
About Madeline Danforth
Madeline Danforth graduated with a B.S. in Microbiology, a B.A. in Spanish, and a minor in Chemistry. Madeline was a member of Dr. Malcolm Winkler's laboratory where she studied bacterial cell division using high-resolution microscopy in the human pathogen Streptococcus pneumoniae. Her work won awards at three annual IU Microbiology Retreats, is published in the Journal of Bacteriology, and was presented as part of her undergraduate honors thesis.
Through Volunteers in Tutoring Adult Learners at Monroe County Public Library, Madeline served as an ENL conversation group leader, an ENL tutor for Spanish-speakers, and co-taught an English class for Spanish-speakers at Bloomington's free clinic, Volunteers in Medicine. During her senior year at IU, Madeline was selected as a finalist for a Fulbright English Teaching Assistant grant in Mexico.
Madeline also studied the bassoon as a non-major with doctoral candidate Conor Bell and Professor William Ludwig at the IU Jacobs School of Music and played in Jacobs bands and orchestras. Additionally, Madeline volunteered for Middle Way House, tutored for IU athletics, and studied for a summer in Santiago, Chile. She is a member of Phi Beta Kappa and the Sigma Delta Pi National Collegiate Hispanic Honor Society. In 2017, she was honored as an AASTP Indiana Outstanding College Student of Spanish.
Post-graduation, Madeline will spend a year in Mexico as a Fulbright scholar to participate in a cultural and educational exchange as an English Teaching Assistant. Afterwards, Madeline will attend Washington University School of Medicine in St. Louis to pursue her M.D.