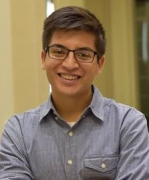 Awards
Stahr Senior Award (2018)
About Jesús Bazán Villicaña
Villicaña, a native of San Miguel, Michoacan De Ocampo, Mexico, is a 2014 graduate of Lawrence Central High School.
He served as an undergraduate researcher at Indiana University's Department of Biology, where he studied Microbiology. He is one of five select recipients of the Elvis J. Stahr Distinguished Senior Awards.
His family resides in Indianapolis.