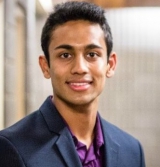 Awards
Stahr Senior Award (2018)
About Kushal Shah
Kushal Shah is a 2014 graduate of Carmel High School. His academic focus at IU was in the area of Mathematics and Biology, with a minor in German. His activities at IU included: IU Journal of Undergraduate Research; Alpha Chi Sigma Professional Chemistry Fraternity; Teter Boisen Leadership Council, and Hutton Honors Council Association.
Shah spent his summers: abroad in Graz, Austria; as summer Statistics Intern at Eli Lilly; summer analyst for JP Morgan Chase and Co, and in undergraduate research at the SP Srinvias Lab, IU School of Optometry.
Shah is one of five select seniors to receive the Elvis J. Stahr Distinguished Seniors Award.