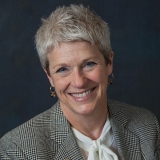 Awards
Distinguished Service Medal (2018)

Retirement Celebration
Indianapolis, Indiana
Presenter: Thomas A. Morrison
About Emily C. Wren
Emily Wren has headed campus facilities at IUPUI since 1990, when she became Director of Campus Facilities. Wren began managing various aspects of facilities at IUPUI in 1985, and quickly expanded her areas of influence to include space planning, real estate management, and the oversight and care of the campus's many buildings.
Wren became Associate Vice Chancellor in 2007. As Associate Vice Chancellor, Wren added oversight of parking services and campus fire safety to her lengthy list of responsibilities. She currently leads a staff of over 500 personnel, in areas including maintenance, cleaning, grounds, parking, and transportation. She also plans small renovation projects and sets priorities for repair and rehabilitation appropriation. Wren has led efforts to implement Geographic Information Systems at IUPUI.
Wren is a leader in the campus sustainability initiative, working with students, faculty, and staff to decrease energy consumption and create a more environmentally-friendly campus.
Wren volunteers her time at the Damien Center and serves as an advisor with the Indiana Retirement Home Fund. She is on the advisory board of the IU Women's MBA program.