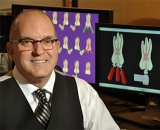 Awards
School of Dentistry Certificate of Appreciation (2017)
About Mark A. Dirlam
Mark Dirlam, a Monrovia, Indiana native, graduated IU with a B.S. in Education, Arts Edcuation, in 1978. Now, more than three decades later, what began as a temporary job for Mark Dirlam has turned into a career that has allowed the graphic artist an opportunity to make a big impact on the dental school's history and the look of its websites, photos and publications.
"I feel like we're ambassadors of our school," Dirlam said. "We want to make sure that the work we do for our people, wherever they may be, demonstrates the quality that our school represents. People have told us often that our work was far and above that of anybody else, and that makes us proud."
The graphics team creates posters and presentations. They create magazines. They make unique invitations to social and professional events. They handle photography for faculty programs and help students create projects, too.