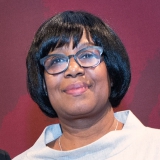 Awards
School of Education Distinguished Alumni Award (2018)
About Dena Cushenberry-Burrello
Dr. Dena Cushenberry-Burrello has worked in public education for nearly four decades. She began her career in South Bend, Indiana, as a teacher and central office administrator. During her nearly 20 years in MSD Warren Township, she served as assistant principal at the middle school level and principal at the elementary level. Cushenberry-Burrello opened Liberty Park Elementary School in 2002-2003. In 2008, she moved to the MSD central office where she served as the associate and deputy superintendent until she was appointed superintendent in 2012.
Cushenberry-Burrello received the 1985 Teacher of the Year Award, 1998 YWCA Tribute to Women Award in Education, and the 1999 Pi Alpha Alpha Distinguished Public Service Award. In 2008, Liberty Park Elementary received a National Blue Ribbon Award presented in Washington, DC. In 2010, all elementary schools she supervised met the federal guidelines for No Child Left Behind's Adequate Yearly Progress goals. In her first year as superintendent, MSD Warren Township Schools was awarded $28.6 million from the United States Department of Education as a district Race to the Top finalist, one of sixteen grants awarded in the nation. In 2014, she was a nominee for the "Indianapolis Business Journal" Women of Influence recognition award. Cushenberry-Burrello received a Distinguished Achievement Award in Education, K-12 from the Center for Leadership Development in 2015, the Governor's Civil Rights Award in 2017, and in 2018, she received Resolutions from the Mayor of Indianapolis and the City Council honoring her years of service.
Cushenberry-Burrello serves on the Jane Pauley Community Health Center Advisory Board, the Indiana University Alumni Association Board, is a past president and member of the Eastside Rotary Board, a member of the District Administration Leadership Institute, a member of the YMCA Advisory Board, and co-founder of the Eastside Redevelopment Committee. She has participated on various educational panels and presentations on personalizing learning at state and national conferences. She earned her Ed.D. and Ed.S. in Educational Leadership from Indiana University Bloomington and her M.S. and B.S. in Special Education from IU South Bend.