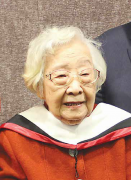 Awards
Honorary Degree (2019)

Litt.D.
Doctor of Letters
Ceremony at National Taiwan University
Taiwan
Presenter: Michael A. McRobbie
About Chi Pang-yuan
Born in Manchuria in 1924, Chi Pang-yuan traveled to the U.S. in 1967 as a Fulbright Scholar. She studied English and Comparative Literature at IU Bloomington in the late 1960s and mid-1970s, a time which she fondly describes in a chapter of her recent book, The Great Flowing River: A Memoir of China, from Manchuria to Taiwan. One of Taiwan's most renowned contemporary writers and one of the most acclaimed writers in the Chinese language, Professor Chi taught at St. Mary-of-the-Woods College, Terre Haute, Indiana.
Emerita professor and former distinguished faculty member at National Taiwan University, Professor Chi is considered the pre-eminent interpreter of Taiwanese literature. Her translation and editing of An Anthology of Contemporary Chinese Literature: 1949-1974, published by Taiwan's National Institute for Compilation and Translation and the University of Washington Press, was the first of its kind and proved instrumental in introducing works by Taiwanese authors to the world.
Professor Chi has led the way in both the establishment and development of the study of Taiwanese literature as a discipline in global academia. She served as founding chair of the Department of Foreign Languages and Literature at National Chung Hsing University, and spent over a decade on the NTU faculty. After her retirement from the NTU faculty, she became editor of The Taipei Chinese PEN, a widely respected journal that publishes translations of Taiwanese literary works.
In February of 2019, President Michael McRobbie, on behalf of Indiana University, awarded Chi Pang-yuan with an Honorary Doctor of Letters at a ceremony at the National Taiwan University.