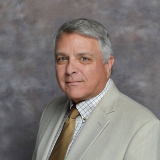 Awards
Distinguished Service Medal (2019)

Retirement Celebration
Bloomington, Indiana
Presenter: Thomas A. Morrison
About Hank (John H.) Hewetson
Hank (John H. Hewetson) completed a Bachelor of Engineering in Mechanical Engineering from Vanderbilt University. He began his 36 years of employment at IU in December 1982, serving as Mechanical Engineer in the Engineering Department in the Physical Plant. In January of 1985, he was promoted to Manager of Building Maintenance, and just five short years later, he became the Assistant Director of Building Maintenance.
By 1996, Hewetson was named Associate Director of Building Maintenance, and in 2001, Director of the Physical Plant. In 2005, he became Assistant Vice President for Capital Planning and Facilities, and served in that position until his retirement in February of 2019. It was in this capacity that he detailed facilities assessment to inform decision-making and long-range planning for repair and rehabilitation priorities. Hewetson was also tasked with coordinating the establishment of priorities and execution of projects funded from state and student fee repair and rehabilitation (R&R), as well as providing guidance for facility operations/physical plant services on all campuses.
Hewetson was honored at his retirement reception with the Presidential Distinguished Service Medal.