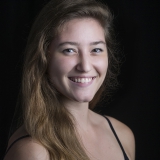 Awards
Kate Hevner Mueller Outstanding Senior Award (2019)
About Emma DeLillo
Emma DeLillo, from Anderson, Indiana, is pursuing a dual degree in Contemporary Dance and Marine Conservation (IMP) as well as a certificate in Underwater Resource Management. She was one of 21 seniors to receive the Kate Hevner Mueller Award. Prior to coming to Indiana University, she trained with Lou Anne Young at Anderson Young Ballet Theatre in styles such as ballet, pointe, modern, tap, and jazz. During this time, she performed principle roles in ballets such as The Nutcracker and Cinderella.
While at IU, DeLillo performed in the Junior Choreographic Showcase in 2016, the Senior Choreographic Showcase (New Moves) in 2015 and 2017, Leading Edges (Helix) in 2016, Roots to Wings (Psalm) in 2017, and Bodies of Light (Germe, Hot Dust (obscured galaxies)) in 2018. Additionally, she choreographed for the Junior Choreography Showcase, From Here On: Dances for a Future Time, in which her work was presented on stage for the first time. In the summer of 2017, she attended the Somatic Dance Conference held at Hobart and William Smith Colleges in Geneva, NY, performing Elizabeth Shea's Hunger Moon.
She teaches at the Bloomington chapter of Dance for Parkinson's, and serves as a research assistant in the underwater science lab.