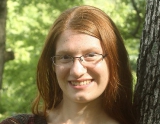 Awards
Kate Hevner Mueller Outstanding Senior Award (2019)
About Megan Diekhoff
Megan Dikehoff is on track to completing a degree in Speech and Language Pathology through Indiana University's College of Arts and Sciences Department of Speech and Hearing Sciences. She was one of 21 seniors to receive the Kate Hevner Mueller Award in 2019, and is a member of The National Student Speech, Language and Hearing Association, and belongs to IU's GLobal Living Learning Community.
Her professional experience includes Service as a Lab Assistant in the Speech Production Laboratory from August 2016 to the present, as well as work as a peer instructor in IU's Global Living Learning Center, where she teaches incoming freshmen about current global issues.
Upon graduation, Diekhoff plans to further her studies with a Master's Degree with a concentration in Speech-Language Pathology.