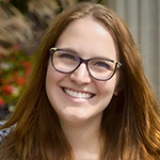 Awards
Kate Hevner Mueller Outstanding Senior Award (2019)
About Molly Cunningham
Molly Cunningham, from Brookfield, Illinois, is on track to complete a bachelor's degree in Journalism in 2019 from IU's The Media School. She was one of twenty-one seniors to receive the Kate Hevner Mueller Award in 2019. Cunningham has served on the Arbutus staff and has tutored at the Monroe County Library. With an extensive history of volunteerism, as member of Crimson CORPS, Media School Ambassador, Step UP! IU facilitator, and El Centro Comunal Latino tutor, Cunningham has also gained professional experience through various internships.
She served as Communications Intern at Asexma Chile A.G. in Santiago, Chile in the summer of 2017, during a IES Abroad Internship Program. In the summer of 2018, she was a U.S. Public Affairs Intern at AbbVie, where she assisted with program development and penned media advisories.
Cunningham's goal after graduation is to work in a junior PR agency position that will allow her to gain the skills required to move up in-house.