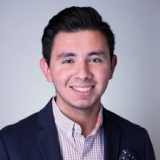 Awards
Kate Hevner Mueller Outstanding Senior Award (2019)
About Gamaliel Garcia
With an expected graduation year of 2019 Gamaliel Garcia of Lagrange, Indiana, is completing his bachelor's degree at IU through the School of Informatics, Computing, and Engineering as an Informatics major. He was one of twenty-one seniors to receive the Kate Hevner Mueller Award in 2019.
Beginning in 2015, Garcia has volunteered for The Project School, where he assists third and fourth graders with their day-to-day classroom needs, promoting learning, answering general technology questions, and chaperoning at recess. His service to the FASE Mentoring Program (2016-present) includes 5-10 hours per week mentoring IU freshmen, directing them to various campus resources. As a member of the IU Mortar Board National College Senior Honor Society, he serves as communications chair.
Garcia's interests primarily lie in technology, design, user experience, and business. Ideally, he would like to pursue a career that combines all of these interests.