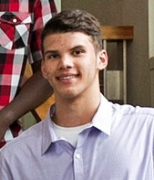 Awards
Kate Hevner Mueller Outstanding Senior Award (2019)
About Adam Day
Adam Day of Fort Wayne, Indiana, is a senior Marketing student in the Kelley School of Business, with an expected graduation year of 2019. He was one of 21 seniors to receive the Kate Hevner Mueller Award in 2019, and is pursuing a minor in Sports Management. A direct admit to the Kelley School of Business, Day has won recognition as both a William R. Fry Scholar and a Hudson & Holland Scholar.
In the summer of 2017 Day completed an internship with the Fort Wayne Mastodons Athletics, where he scheduled multiple festival appearances and performed as the team mascot. He also was instrumental in re-branding the student section by creating a New Fort Wayne Blue Crew logo, social media accounts, and rewards system to increase student fan attendance and engagement. During this same time period, he interned with the Fort Wayne Tin Caps baseball team, where he improved fan experience over 85 games by facilitating positive mascot interaction and created content for social marketing.
From 2016 -2019, he served as Data and Forms Assistant at the Kelley School of Business. And, as a member of the Hoosier Hype Crew - IU Athletics, he visits the pre-game tailgate areas to distribute t-shirts and giveaways to enhance the fan game-day experience. According to Day, "The power of sports is what drives me to use my skills in the field of sports marketing to bring unity and happiness to my community."